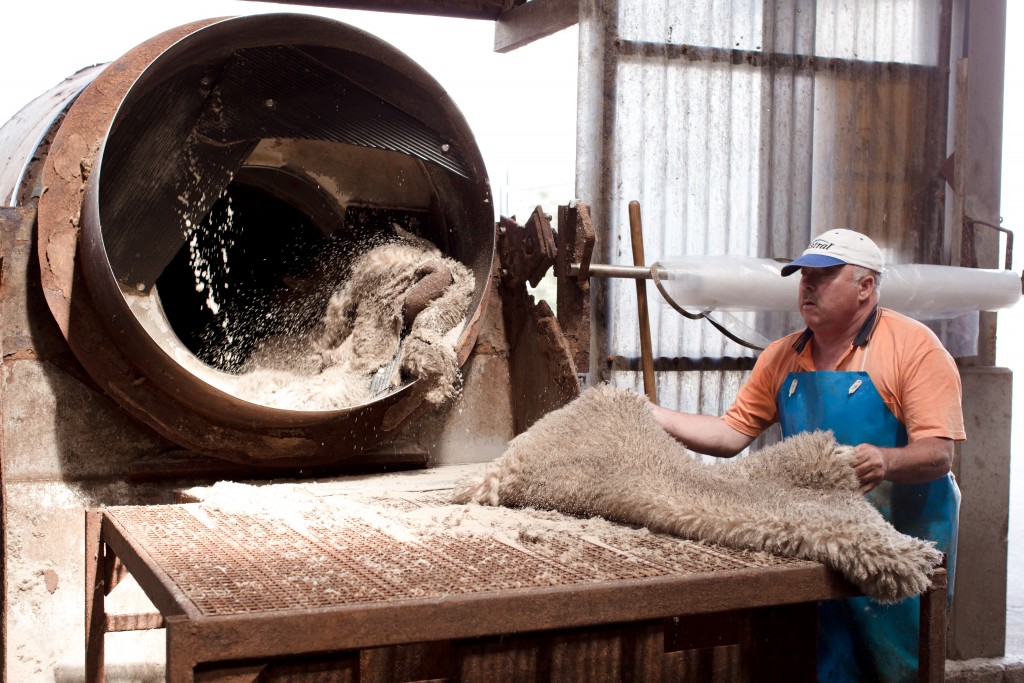 Drumsalted skins
We receive raw skins immediately after slaughter from local meatworks, where we straight away classify all raw skins in the green sorting and trimming area. The initial stage is absolutely critical to the treatment process.
All green skins are spread flesh side up for classing. The classer scans and classifies the skins according to shape and the presence of knife flays, holes, rib and seed.
Skins are moved to agitators, then from there they are placed onto drum stills where they are left to cure for seven days using fresh fine stoved salt that is fortified with Boric Acid and Sodium Fluoride.
After this period, they are packed onto International Standards For Phytosanitary Measures No. 15 (ISPM 15) certified wooden pallets, destined for the export market.
Cuthbertson Brothers will class all our skins to customer specifications.
Packing: we load 18–20 pallets per 20 ft container.
Spring Lambs
Lambs are a 54's + wool quality size 6 sq ft (average 7–8 sq ft)
Range: 1.5– 3"
Shorn Lambs
Range: 0.25–0.5"
Range: 0.5–2"
Range: 2" upwards
Sheep
Sheep are 56's + wool quality merino material size 7 sq ft (average 8–8.5 sq ft)
Range: B–0.25"
Range: 0.25–0.5"
Range: 0.5–1"
Range: 1–2"
Range: 2" upwards
Crossbreds
46/54's wool quality size 6.5 sq ft (average 8–8.5 sq ft)
Range: 0.5–1"
Range: 1" upwards
Standard Grades
1st Grade (sound)
2nd Grade
3rd Grade (damage)